The «Belvedere-Nevsky» business-hotel
The history of the building № 29 on the Bolshaya Konushennaya Street, where is located the Belvedere-Nevsky business-hotel, starts in the end of the 19 century.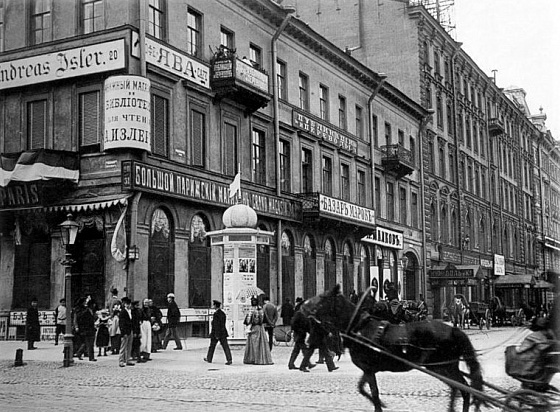 Commissioned by the family of industrialist and engineer Ludvig Nobel in 1868-1869 years, have been built the first five-story building in the Saint-Petersburg, by professor of architecture David Grimm.
The front facade of the building designed in eclectic style with high semicircular windows on the first floor of the construction.
There were a lot of organizations in this building, such as: the family home of Ludvig Nobel, which represent the reflection of technological and industrial development of the capitalist Russia, and second telephone exchange in the Saint-Petersburg, work for communication with Moscow.
From the end of 19 century in this building were located the pharmacy of influential pharmacist Karl Kreslinga, which was equipped with its own laboratory, City station of state railways, primary schools, the art shop, the auction room, armory of hunting weapons, and first in the Saint-Petersburg beauty salon.
Since 2005 year the comfortable business-hotel "Belvedere-Nevsky" locates on the second and the third floors of this old-fashioned building.
Business-hotel "Belvedere-Nevsky" in the city center.
«Belvedere-Nevsky» business-hotel functions in a travel market quite recently and constantly progress to provide for guests comfort and quality service.
The "Belvedere-Nevsky" business-hotel is located near luxury clothing shops, such as: Tourbillon Boutique, Kiton, Prada St.Petersburg Donna, Dior, Brunello Cucinelli, Fabiana Filippi. In September of 2012 year, the mall "DLT" has been opened after reconstruction. This mall has become the leader of other luxury shops which located on the Bolshaya Konushennaya Street.
All of our guests will appreciate the best location of the Hotel in the center of Saint-Petersburg, high level of comfort and wide range of the offering service.
The warm staff of the «Belvedere-Nevsky» Hotel will be glad to see:
the individual travelers, preferring not to leave the city center and to walk on streets and channels of majestic Petersburg in the evening,
the business guests, wishing to use services of business class hotel.
Besides comfortable accommodation the business-hotel «Belvedere-Nevsky» in Saint-Petersburg is ready to offer you a lot of additional services.